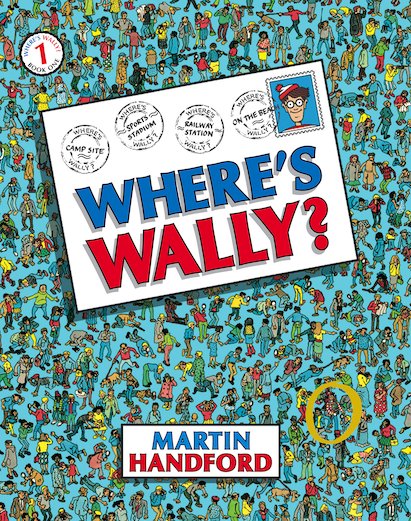 Handford, Martin "Where's Wally?" (Where's Waldo?) - 1987
I was looking for a character starting with W for an "Alphabet Challenge". I just had to think about Wally (or Waldo in the US or Walter in Germany, but he also has non-"W" names: Charlie in French, Efi in Hebrew, Hetti in Hindi, Holger in Danish, Jura in Croatian, Valik in Czech, Veli in Turkish and Vili in Hungarian, to name just a few) and Wilma and I thought, I haven't written about these fabulous books.
I guess Wally is known worldwide because he is going everywhere. Mind you, he is also hiding everywhere, so I'm surprised anybody knows him at all.
I have spent many many happy hours with my boys trying to find Wally, the other characters and items in numerous pictures, we have had so much fun trying to find the weirdest things in the strangest places. This is a wonderful book to share with your children.
The children seem to love it a lot, too, in 2009, students in the US dressed as Wally and set a record in the Guinness Book, an attempt in England the following year didn't succeed but in 2011 it was broken in Ireland.
From the back cover: "
An activity book that features Wally, along with his friends, who are fiendishly hidden in every scene.
"